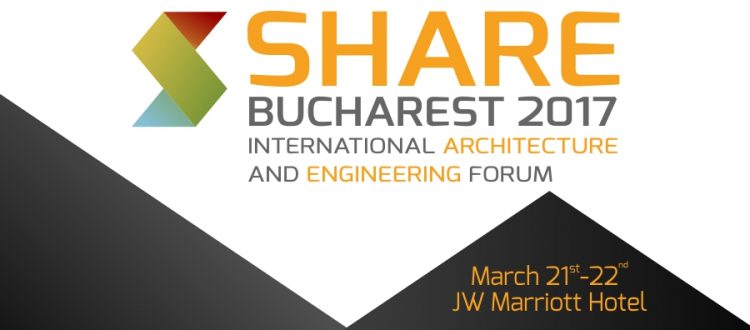 Prezențe de excepție la primul Forum de Arhitectura și Construcții al anului 2017
SHARE Bucharest 2017 International Architecture and Engineering Forum
JW Marriott Bucharest Grand Hotel
21-22 martie 2017
Asociația PRO Event, AB Plus Events, Ordinul Arhitecților din România, împreună cu partenerii săi, anunță Forumul International de Arhitectură și Inginerie: SHARE Bucharest 2017 International Architecture and Engineering Forum care va avea loc în perioada 21-22 martie la JW Marriott Bucharest Grand Hotel.
Forumul SHARE, cel mai amplu eveniment adresat arhitecților, inginerilor și contractorilor, din prima parte a anului, va avea ca teme: arhitectura de interior și confortul ambiental, arhitectura peisagistică și de infrastructură, sticla în arhitectură, proiectarea structurilor și fațadelor de sticlă.
Forumul SHARE 2017 reunește în ediția sa din martie următoarele evenimente:
Expo-conferința internaționala de arhitectură GIS dedicată arhitecturii de interior și designului ambiental, ediția a VIII –a, (21 – 22 martie), Expo-conferința Internațională INGLASS dedicată sticlei în arhitectură ,ediția a VII – a (21 martie), Expo-conferința internațională LAUD  dedicată arhitecturii peisagistice și infrastructurii urbane,  ediția a IV – a, (22 martie), Expo-conferința internațională CONTRACTOR cu tema confort ambiental (HVAC/LIGHTING), ediția a V – a (21- 22 martie).
Recunoscute drept primele evenimente de amploare care aduc împreună trioul arhitect – constructor – beneficiar, evenimentele SHARE  prezintă anual studii de caz și noutați naționale si internațioale pe principalele domenii de interes: Educație – cultură, Sănătate, Spații publice, Spații comerciale, Spații rezidențiale.
Prezențe speciale la SHARE 2017, 21-22 martie
*Arhitect Șerban ȚIGĂNAȘ  – Chairman SHARE 2017 – Președinte al Ordinului Arhitecților din România (OAR);
*Profesor arhitect Kathryn MOORE –  Președinte International Federation of Lanscape Architects (IFLA WORLD)
* Președinte John FIELD – The Chartered Institution of Building Services Engineers (CIBSE), UK
*Keynote speakers INGLASS: arhitectii Kerem YAZGAN si Begun YAZGAN din cadrul biroului Yazgan Design Architecture, Turcia. Câștigători: 2015 – Colour Prize Winner,  2016 LEAF Awards 2016, 2016 World Architecture Festival (WAF)
*Keynote speaker LAUD: profesor Rainer SCHMIDT, Rainer Schmidt Landscape Architects and Urban Planners, Germania. Autorul cărții "City by landscape". Câștigător al 2016 AAP American Prize, 2015 Wan Landscape Award
*Keynote speakers GIS: arhitectii Paloma HERNAIZ si Jamie OLIVER, din cadrul OHLAB Architecture Lab, Spania. Cel mai premiat birou  la Festivalul Mondial de Arhitectura 2016 de la Berlin.(Trei premii WAF 2016 pentru House MM, Puro Hotel și Clinica Emardental).
*Arhitect Ian SIMPSON din cadrul biroului Simpson Haugh and Partners, Marea Britanie, câștigătorul 2016 – AJ120, 2016 Winner RIBA Award.
*Arhitect Fanny LENOBLE, din cadrul Schmidt Hammer Lassen Architects, Danemarca, nominalizat cu proiectul "Dokk1 & Malmö Live" la EU Prize for Contemporary Architecture- Mies van der Rohe Award 2017.
*Dipl. Ing. Arhitect Arne HOFMANN, director  Bollinger Grohmann Ingenieure, Austria. Architect experimentat în operațiuni de interfață între arhitectura și proiectarea structurilor.
*Arhitect Luke LOWINGS, Carpenter|Lowings A+D, Marea Britanie va prezenta un proiect la limita dintre artă, arhitectură și inginerie,The Hong Kong Glass Stair and Skylight, identitar pentru viziunea biroului.
*Arhitect Bart DIJK, OKRA- Landscape Architects, Olanda, experimentat și dedicat landscape designer, specializat pe proiecte de mari dimensiuni. Bart a fost responsabil de proiecte ample de transformare urbană pentru orașe ca Rotterdam, Basel sau Atena.
* Arhitect George DECOMBES, Elvetia, aduce în conferință un proiect și o temă remarcabilă "Designing a River Garden". Proiectul râului Aire a primit în 2012, Schulthess Swiss Gardens Prize, a fost declarat "The Best Swiss Landscape Architecture Project of the Year în 2015" și a fost finalist în 2016, pentru Rosa Barba Landscape Prize.
*Arhitect Henrik STJERNHOLM, Danemarca,  city planner și arhitect șef al municipalității Vejle timp de 38 de ani, va explica în conferința procesul de elaborare și factorii de succes în adoptarea primului program de politică de arhitectură al unui oraș din Danemarca (1997).
*Arhitect Frits van DONGEN, van Dongen – Koschuch, Olanda, fost arhitect-șef al Guvernului Olandei, va susține în cadrul GIS, prezentarea proiectului "Theatre de Kampanje, Den Helder".
*Neil LEWIS, Managing Director la Waterman Building Services, Marea Britanie. Va prezenta proiectul Everyman Theatre, overall winner 2016  (Building Performance Champion 2016).
Pentru înscrieri și informații vă invităm să consultați pagina web a fiecărei expoconferințe (www.ielaud.eu, www.iegis.eu, www.ieglass.eu, www.contractor.com.ro  și a forumului SHARE: www.share-architects.com