Biography
POSITION
ARCHITECT, FOUNDER PARTNER ATELIER DESCOMBES RAMPINI, Switzerland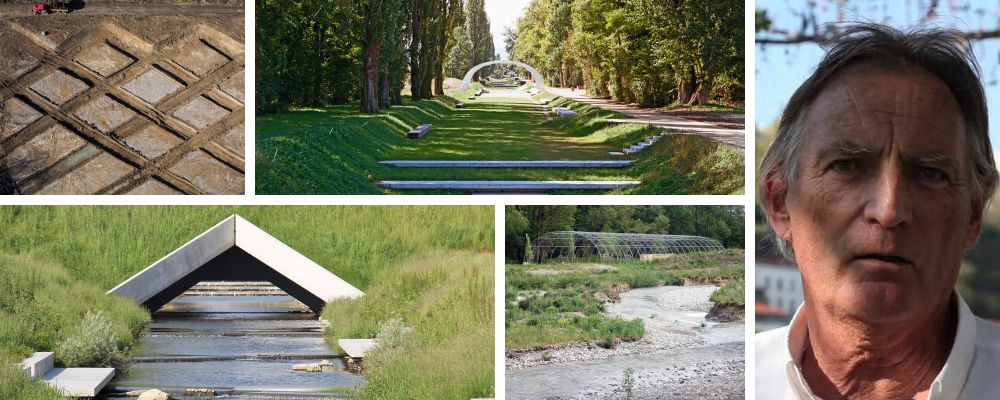 PRESENTATION
"AIRE Renaturation of the river Aire"
The Aire flows through valleys historically devoted to farming. From late 19th century it was progressively canalized. In 2001 State of Geneva opened a competition with the idea of restoring the river to its original shape by destroying the canal. We instead proposed to combine the canal with a vast divagation space for the river. In the process the canal became the pointer for the transformations, a reference line giving the possibility to understand a before and an after.
The design associates the new riverbed and a serie of gardens in the former canal. In reality the whole design becomes a linear garden that organises situations, views, presences. The canal footprint is a key device for building the necessary calm and interiority.
For the drawing of the river, conscious of the useless effort to design a fixed river bed, we proposed a launching pattern whose form addresses the play between the river flow and the prepared terrain. This diamond-shape diagram based on the percolation principle opens a complex serie of undetermined channels for the flows. The river flows displacing diverse materials, gravels, sand and the initial geometrical matrix of lozenges gives birth to an extreme diversity of the fluvial geomorphology.
BIOGRAPHY
– School of Architecture, Geneva, 1969
– Architectural Association Graduate School of Architecture, London, 1973
One of the most original practitioners of recent times, Georges Descombes has a subtle design approach that reflects three guiding (aesthetic/ethical) principles: minimal insertion (consulting and respecting the existing, and then doing the most with the fewest resources); identifiable interventions (what has been added should be apparent), and reversibility (what has been done may be modified as conditions change). Descombes' landscapes are characterized by an intensive investigation of the qualities and history of the site, deriving their vocabularies from the existing characteristics of the place.
His best-known works are the Bijlmer Memorial in Amsterdam, the Parc de Lancy in Geneva, and the Swiss Path around Lake Uri in Switzerland. Current projects include the Parc de la Cour du Maroc in Paris, a riverfront park in Lyon and the transformation of the River Aire outside Geneva.
Descombes has taught at several schools including UC Berkeley, Harvard, Penn, and the University of Geneva, where he was Professor of Architecture and founder of the graduate program in landscape architecture.
AWARDS
AWARDS OF THE OFFICE:
2016 Biennale of Landscape architecture / Public prize for the project of revitalisation of the Aire river
2015 Hasepreiss Gold / Landschaft for the project of revitalisation of the Aire river
2012 Schulthess Award for gardens for the project of revitalisation of the Aire river
AWARDS OF THE SPEAKER :
2016 Lausanne Prix culturel Fondation Leenaards
2015 Geneva Prix culturel de la Ville de Genève catégorie Arts plastiques
2009 Pennsylvania State College Penn State University "John R. Bracken Fellow in Landscape Architecture"