Biography
POSITION
ARHITECT/ADMINISTRATOR SC. 9 OPTIUNE SRL., BAIA MARE, ROMANIA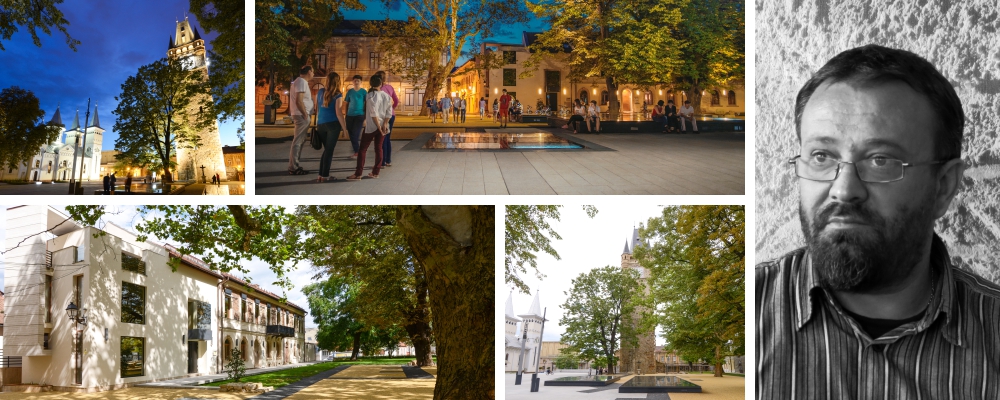 PRESENTATION

"Piata Cetatii – Baia Mare"
– Rehabilitation works of the square were to preceded by archaeological research which revealed that two other churches coexisted with St. Stephan.
– The project pursued that all archaeological material discovered should be preserved and presented.
– On the southern side of the square was reserved a vast space for circulation and religious processions of the two churches in use ( in worship), St. Trinity Roman Catholic Church and the Orthodox Church of St. Nicholas, also ideal for cultural events.
– The Northside was held to mark in the floor the contour of the St. Stephan's Church.
– The ruins from the XIVth century, uncovered by archaeologists, were highlighted by five underground spaces, covered with glass, allowing them to be seen open.
– On the eastern side of the square was partially reconstructed St. Catherine's Church and by a semi-underground building were presented the ruins of St. Martin's Church.
– The major challenge of the project has been to harmonize the existing buildings with the revealed archaeological remains and the trees planted in 1847, once with the demolition of the church St. Stephan.
– These altogether with the proposed green areas create a new space, a bivalent one, artificial and natural, successfully combining them. A space in which the reconstructed history alongside with the present is perceived differently in each and every season.
– The rehabilitation work included the square consolidation and restoration of the Stephan Tower interior, thus can be visited and allows all tourists to discover the city from the loggia.
– To ensure an adequate tourist service there has been located on the western side an information point, a discreet building, half of it below ground, also played like the square with granite Bianco Sardo, which makes a monumental and noble space.
– For upgrading the entire ensemble a great importance has been given to the lighting which allows the visits during nighttime.
– Today the tower is highlighted by an ornamental lighting on architectural elements such as rosettes or frames of the windows with a warm light.
– To emphasize the vestiges of the square a general, mostly indirect and discreet light has been proposed.
– Thus, the lighting of the trees, of the remains, of the buildings on the perimeter of the park and the historic walls have passed towards a warm registry and the contemporary buildings, mainly the information point and the newly built area, over the ruins of the Church of Saint Martin are emphasized by the contrast of the cold light.
AWARDS
– Grand Trophy of Culture 2004
– Nicolae Ghika-Budesti Award for Restoration Business center Millennium 3, 2004
– Award-design Architect, Castle Square Rehabilitation 2004
– III prize in Helsinki. City people light design. Fortress Square, 2015
– Triennial Restoration. Jury Prize for Castle Square, 2016
– Mention Castle Square Laud for 2016
– Special mention – Romanian Building Awards 2016
All sessions by Arch. STEFAN PASKUCZ
21 Mar 2017
15:10 - 17:20
BRAILA ROOM
22 Mar 2017
9:40 - 10:00
Grand BC