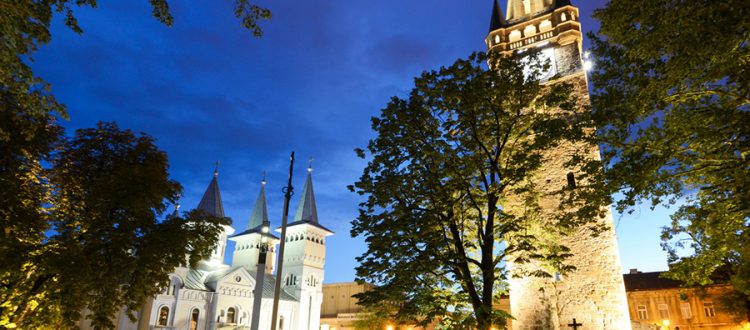 STEFAN PAKUCZ at SHARE IN BUCHAREST 2017: presenting his project "Restoration of the Castle Square in Baia Mare"
ARCH. STEFAN PASKUCZ from 9 OPTIUNE is going to be present at SHARE Forum 2017 to speak about the restoration of the Castle Square in Baia Mare. The proceedings will take place on 21-22 March in Bucharest.
He has received his diploma from the Cluj-Napoca Technical University in 1997, continuing his post-graduate studies in the restauration of the architectural patrimony at the same university between 2001 and 2003. Mr. Paskucz has been involved as a member in the Aesthetics and Urban Comitee  of the Mayor of Baia Mare. Furthermore he currently is the President of the North-western  Branch of the Order of the Architects in Romania. His practice was included in "50 OFFICE OF ARCHITECTURE IN ROMANIA " in 2009 and respectively in "51 OFFICE OF ARCHITECTURE IN ROMANIA " in 2011, two publications by BussinessWeek Romania.
The project he will be presenting during SHARE proceedings, the Castle Square Restoration in Baia Mare is a highly acclaimed one. The intervention completed in 2015 received the III prize in City people light design in Helsinki 2015, the Jury Prize at the Triennial Restoration in 2016 and a Mention at Laud 2016. It acts as a rehabilitation of the existent square which brings together in a new context the different historical buildings or recovered archaeological remains: the two churches in use ( in worship) on the southern side, St. Trinity Roman Catholic Church and the Orthodox Church of St. Nicholas, the contour of St. Stephan's Church on the northern side, the ruins from the XIVth century and the partially reconstructed St. Catherine's Church in the east. Another existing element of historical importance is the vegetation which was planted in 1847 after the demolition of St. Stephan Church. The main design principles used in this project aim at harmonizing this heterogenous building ensemble into a coherent urban public space allowing it to be discovered by tourists and therefore giving it a contemporary use. The proposal plays with light and greenery, complementing the image of each existing building, but also with a humble addition to the existing built space – the partially below ground building hosting an info point.
"This place was immortalized countless times on canvas, by famous painters that were part of the phenomenon of Baia Mare School of Painting ( XIX – XX century). Afterward, for another century, Fortress Square/Piata Cetatii, especially Stephen Tower were an inspiration for artists of the modern and contemporary period.
Today, the new atmosphere created, the square is not only a place of inspiration but also a meeting place, a scene in itself for cultural events that use as background scenography the historical ruins painted with the modern lighting", says Dr. Dan Pop on this particular intervention.