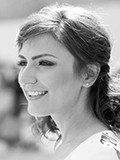 Guest Speaker in LAUD conference, Semmelrock stein+design, Romania
– Experienta profesionala in marketing si product management de peste 12 ani in domeniul constructiilor si automotive
– Outdoor Living Trends 2015 – Amenajări Semmelrock
De mai bine de 50 de ani, Semmelrock Stein+Design folosește designul la nivel de artă, know-how-ul și producția prin mijloace tehnologice moderne pentru a veni cu idei inovative și pentru a impune standardele în piața producătorilor de pavaje. Astfel, compania se poziționează ca furnizor de top în livrarea soluțiilor de amenajări exterioare din Centrul și Estul Europei.
Semmelrock este 100% subsidiară a Wienerberger AG, având o bază industrială modernă, o capacitate mare de producție și puncte de vânzare în zonele centrale și estice ale Europei. Cu 16 fabrici în opt ţări – Austria, Slovacia, Republica Cehă, Ungaria, Polonia, Croația, România, Bulgaria – și puncte de vânzare în Slovenia, Serbia, Bosnia şi Herțegovina, compania ajunge la aproximativ 1.000 de angajați.
Produsele Semmelrock au diverse domenii de aplicabilitate, de la piețe publice, străzi și zone de promenadă, la zone rezidențiale și grădini. "Ca designer al soluțiilor de amenajări exterioare, ne găsiți acolo unde oamenilor le place să se relaxeze".
Founded in 1958, Semmelrock became a part of Wienerberger in 1996. From 1998 onwards, the company started its expansion into the CEE region with the first plant opening in Hungary. Today Semmelrock operates in eleven countries in Central and Eastern Europe, thereof in eight countries with local production sites. Since 2010, Semmelrock is a 100% Wienerbergercompany.
Since the 90ies, we have seen a strong development of our business operations. Back then, Semmelrock was a regional player in Carinthia, Austria. Today we are a multicultural group and leading supplier of high value pavers in our focus market CEE. Paving is our passion – that's what we wish to address to our employees and partners. Our passion is the driving force behind our commitment to continuously develop our skills and know-how regarding future-oriented landscaping solutions.