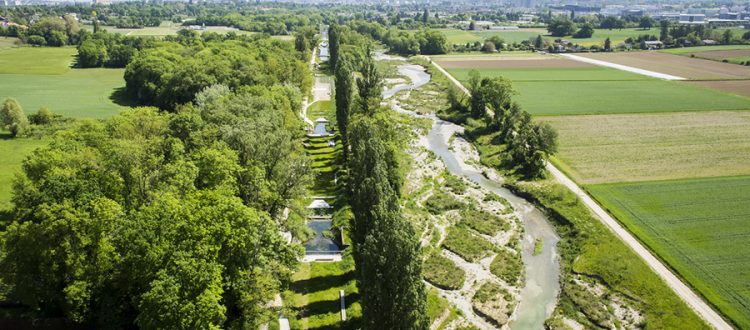 GEORGES DESCOMBES ABOUT THE RENATURATION OF THE RIVER AIRE AT SHARE FORUM 2017
Architect Georges Descombes, founder partner at Atelier Descombes Rampini in Switzerland will hold a lecture about the "Renaturation of the River Aire"  at SHARE Forum 2017 Bucharest on 21-22 March.
Having continuously expanded his studies in architecture since his diploma from the School of Architecture in Geneva in 1969 by graduating from the AA School of Architecture in London in 1973 and receiving in 2009 the "John R. Bracken Fellow in Landscape Architecture" from the Pennsylvania State College  Penn State University, George descombes has developed a personal ethical approach to architecture. His design aesthetic principles follow three main ideas that define his work with the history and intrinsic character of place: the idea of the minimal insertion of identifiable interventions which are themselves the subject of change and reversibility.  His experience includes also a teaching career; Descombes has taught at several schools including UC Berkeley, Harvard, Penn, and the University of Geneva, where he was Professor of Architecture and founder of the graduate program in landscape architecture.
Among his best-known work are the Bijlmer Memorial in Amsterdam, the Parc de Lancy in Geneva, and the Swiss Path around Lake Uri in Switzerland. Currently his practice is involved in the project for the Parc de la Cour du Maroc in Paris, a riverfront park in Lyon and the transformation of the River Aire outside Geneva, a development which has been further acclaimed since its first phase in 2002. Although it is an ongoing project, the renaturation of the River Aire has received the Public prize at the 2016 Biennale of Landscape architecture, the 2015  Hasepreiss Gold / Landschaft and the 2012 Schulthess Award for gardens.
This particular project won the competition launched in 2001 by the State of Geneva; aiming to restore the river to its original shape prior to  the 19th century, the brief included the elimination of its canal built for farming purposes. Descombes proposes instead another strategy: to use this existing canal as a starting point, keeping it as a reference for the evolution of the landscape, and to alter it by juxtaposing a vast divagation space as a new riverbed. This new association is described as a linear garden which has the ability to transform and give birth to a new fluvial geomorphology based on a diamond-shaped diagram. Contrasting with the old gesture of fixing the river in one place, the project makes way to an indeterminate evolution of the river course.
See more about this subtle landscape intervention at the Georges Descombes' lecture at SHARE Forum 2017 Bucharest on 21-22 March.
Further info: superpositions.ch/