Biography
POSITION
Project manager – Landscape Designer, OKRA landschapsarchitecten, the Netherlands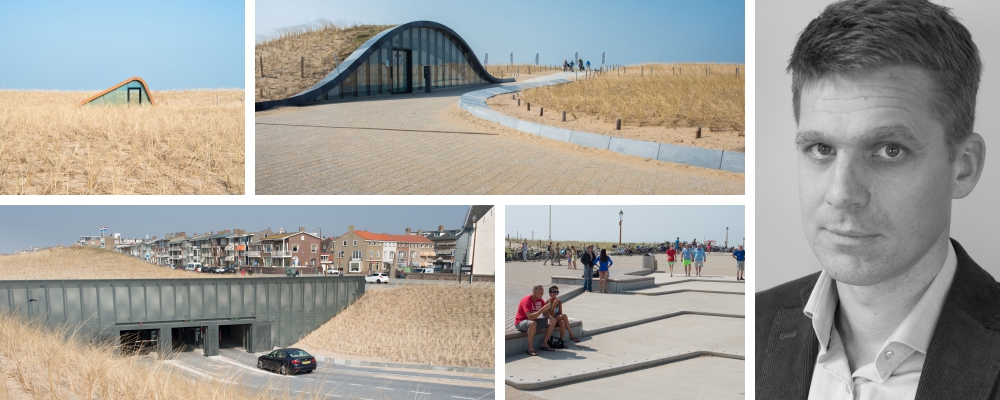 PRESENTATION
"Katwijk Coastal Defence"
Seaside Resort
For the past ten years the Rijkswaterstaat, the Ministry of Infrastructure and the Environment, have been working to strengthen some weak links in the coast. Alongside building the required coastal defence, the coast zone investments also ensure that Katwijk remains a tourist destination and supporting the local economy of seaside towns. In an interactive planning process OKRA defined the most important values of Katwijk; namely the relationship between the village and the beach. The chosen dyke-in-dune coastal defences, a stone-lined embankment covered and reinforced by dunes, sufficient low dunes would be built with minimal disruption between town and beach. With this construction, the City Katwijk could also realise an underground parking garage behind the dyke. The dyke and garage are completely hidden from view by natural-looking dunes. An extensive network of paths has been built to connect village and beach, offering views of the sea. The highlight of the design is a broad dune transition that serves as a welcome space and event plaza, in total forming a vibrant heart for the coast of Katwijk coast.
PROJECT AWARDS
2016 Dutch building price 2017 category Civil works (NL), Parking garage Kustzone Katwijk, nominee (result 2017)
2016 BNA Best Building of the Year (NL) Parking garage Kustzone Katwijk winner
2016 Nationale Business Succes Award 2016 (NL), branche winner landscape architect branche
2015 Falco Best Public Space award, Kustzone Katwijk (NL), winner
2015 Prof. Dr. Ir. J.F. Agemaprijs 2015, Kustzone Katwijk (NL), finalist
2015 Rijnlandse Architectuur award, Kustzone Katwijk (NL), winner
2015 Gouden Piramide (price for inspiring governance), Kustzone Katwijk (NL), finalist.
BIOGRAPHY
Bart Dijk (1980) is an experienced and dedicated landscape designer who excels at large scale designs for landscape architecture and urbanism. Over the last 12 years Bart has focused on the transformation of cities and landscapes. He has extensive experience in defining frameworks for urban developments, design of public space, master planning and strategies. In integrated design teams, he is the driving force and known for his innovative concepts. In his projects, Bart is motivated to create added value in the public domain with respect to history and planning context. At OKRA – based in Utrecht, The Netherlands – Bart was responsible for the large-scale urban transformations of f.e. Rotterdam, Basel and Athens. With his project, Coastal Work Katwijk he won many awards, including the prize for best public space 2015. At OKRA Bart operates in a multi-disciplinary team of over 25 international professionals.
AWARDS
2016 Dutch building price 2017 category Civil works (NL), Parking garage Kustzone Katwijk, nominee (result 2017)
2016 BNA Best Building of the Year (NL) Parking garage Kustzone Katwijk winner
2016 Nationale Business Succes Award 2016 (NL), branche winner landscape architect branche
2015 Falco Best Public Space award, Kustzone Katwijk (NL), winner
2015 Prof. Dr. Ir. J.F. Agemaprijs 2015, Kustzone Katwijk (NL), finalist
2015 Rijnlandse Architectuur award, Kustzone Katwijk (NL), winner
2015 Gouden Piramide (price for inspiring governance), Kustzone Katwijk (NL), finalist
2014 Falco Best Public Space award, Catharina Amaliapark, finalist
2009 Delta Water Award, nomination, Zealand Energetic Recreation
INVITED COMPETITIONS
2016 Valkenburg (Netherlands), scenario exploration barracks Airport, winner
2016 Mechelen Ragheno (Belgium), winner
2013 Athens (Greece), " Rethink Athens – towards a new city center", winner
2012 Hillegom (Netherlands) Hoftuin, winner
2012 Glostrub (Denmark) Ejby Campus, winner
2012 Utrecht (Netherlands) Jaarbeursplein, winner
2010 Basel Gestaltungskonzept Innenstadt, winner
2006 Domplein Utrecht, winner
All sessions by Arch Bart Dijk