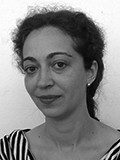 Guest Speaker in LAUD Conference, University of Architecture and Urban Planning Ion Mincu Bucharest
University of Architecture and Urban Planning Ion Mincu Bucharest, Faculty of Urban Planning - Department of Urban Design and Landscape Planning
Manager Proiect PUG-MB
Project: "Introducing Agricultural Landscape in Spatial Planning Practice"
Andreea Popa is currently Assistant Professor at University of Architecture and Urbanism Ion Mincu Bucharest, Department of Urban Design and Landscape Planning as planning specialist and researcher in landscape problematic (territorial, cultural, planning, policies and implementation tools).
In ten years of professional activity was involved in various large-scale projects with sustained activity in the field of urban design and development, spatial planning, and landscape planning.
Andreea Popa participated at international and national conferences and symposiums with research projects presentations on various themes: urban development and management issues, landscape design and planning and urban planning education.
Coordinated several international workshops on landscape, cultural landscape, territorial development and urban planning problematic.
Publication of articles, studies and research reports at prestigious national and international publishers and international conference proceedings.
Education
Ph.D. in Urban Planning/ Landscape Policies with Doctoral Thesis "Evidence of agricultural landscape presence in territory", UAUIM, 2012
Master Class in Landscape Research, UNISCAPE, 2010
Fellowship Summer University, Training Course Urban Management of Transitional Cities, Central European University, 2007
Master Degree in Urban Management at UAUIM, 2008
Graduated as urban planner at UAUIM, 2004
Professional Membership and Awards
Urban Planner, RUR member of Registry of Urban Planners Romania
Lithuania Prize for Junior Researchers for paper "Aspect of agricultural landscape as a cultural asset in metropolitan areas: case study Bucharest City", Gediminas Technical University, 2012
Introducing Agricultural Landscape in Spatial Planning Practice
In Romania, after decades of urban and territorial development marked by unique control, currently development is often inconsistent and not correlated with regulations, discontinuous in terms of strategic and spatial correlation of different levels. The result is an inevitable process of degradation, with no awareness for the agricultural landscape. Abandonment of agricultural landscape or inadequate maintenance causes profound alterations.
The agricultural landscape approach at national level constitutes a recent concern and is marked by fragmented provisions, being subject (sometimes, without a commendatory request) of spatial planning documents.
The agricultural landscape methodology proposes a complex multi- disciplinary approach and defines the agricultural landscape as a synergic result of uses and values contained and tries to introduce the agricultural landscape concept in Romanian planning practice as a synthetic result. The approach tries also to correlate fragmented legislative or operational existent provisions with potential financial tools in order to assure the economic feasibility of the agricultural landscape.
At national level, planning documents are trying to include the agricultural landscape problematic based on this methodology, as new initiative we can outline: The Substantiation study for Master Plan of Pantelimon City, The Substantiation study for Configuration of Urban System Braila- Galati, The Substantiation Landscape Study for Master Plan of Pietrosita Commune.