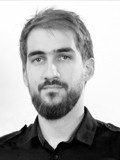 Moderator in LAUD conference, Urban Development in Romania, Vice president the Professional Association of Romanian Planners
Mihai Alexandru is an urban planner, who advocates for the role of centrality and urban cohesion for livable cities.
In over 7 years of planning practice, consisting in urban and territorial strategic planning projects and urban and landscape design projects, some of which awarded, Mihai has pleaded for the rediscovery of quality of places as a key driver for successful communities. Since 2007 he is a teaching assistant at the Faculty of Urban Planning within "Ion Mincu" University of Architecture and Urbanism in Bucharest. Mihai's research activity has been informed by his fellowship at Grandlyon (Lyon) in 2008 and by his doctoral fellowship at ETSAB in Barcelona in 2012 and took shape in two publications on landscape design and strategic planning as well as in several papers in scientific journals and international lectures.
Starting with 2008, Mihai is member of the editorial board of UrbanismulSerieNouă magazine, a registered expert and a member in the Superior Council of the Romanian Registry of Urban Planners and more recently, the Vice-Chair of the Romanian Association of Professional Planners.